We need a goal!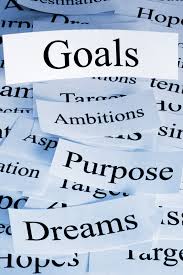 By: Keith Travis
We need a goal!
If we don't have a goal in life it is very easy to just drift along aimlessly
A goal when completed can give us a sense of achievement which can then spur us on to greater goals.
When we are young we have many goals consciously and unconsciously. We have for instance a goal to be able to walk or to learn to read and write. Then as we get older we may set a goal of going to university and then getting the job we want.
Sometimes we don't reach our goals and then we can become despondent. It is important to aim for something that is realistically achievable for instance "a year from now I will go to Spain on holiday as opposed to "My goal is to win the lottery next week". A great goal but it's not realistically achievable.
So set your self a goal even a simple one like "I am going to paint the garage door this weekend"
Then when you have done that you could say to yourself I am going to decorate the lounge "and so on until the whole house is done.
You may be a bit shy and so then your goal could be to talk to someone you haven't talked to before. This is an easier goal than you may imagine because all you have to do is ask them questions about themselves and they will do the rest.
As we get older maybe we don't make ourselves goals as we did when we were younger. But this is a really important time to make goals because as we retire and our routine possibly becomes a bit more mundane we need to feel we are still achieving something as we did in work. So maybe your goal is no longer to climb a mountain because you are no longer physically able but you can still have small goals everyday like completing a crossword going for a walk, making contact with someone you haven't seen for a while, starting and being successful with a new hobby. Anything really that you can do which gives you the satisfaction of completing it.
So it does not matter if you are young or old having a goal is really important no matter how little or big that goal is.
Make a goal of making a goal every day at the start of the day and notice when you achieve the goal how much better, more confident and content you feel at the end of the day.